Commercial Car Wraps: Catch This Advertising Wave
Vancouver commercial car wrap
Since making a huge splash in 1993 with a full bus wrap advertising Crystal Pepsi, commercial car wraps have ridden a wave of popularity to become an engaging and cost-effective media platform for companies large and small.
Using sophisticated printing technology, your business logo and message can become a moving advertisement placed on every vehicle in your fleet. These vinyl wraps are affordable and easily changed to adapt to changes in your product mix or marketing environment. As an added benefit, a quality vinyl wrap actually protects your vehicle's exterior paint from wear and fading.
The Out-of-Home Advertising Tide is Rising
The entire out-of-home advertising industry is a growth field. Commercial vehicle wraps account for a large part of this growth. Fleet wrap advertising provides you with an affordable, flexible means of reaching and engaging consumers. According to 3M's Mobile Media Advertising division, 97% of consumers surveyed recalled the wrap advertising they had seen and 98% were left with a favorable impression of the advertiser.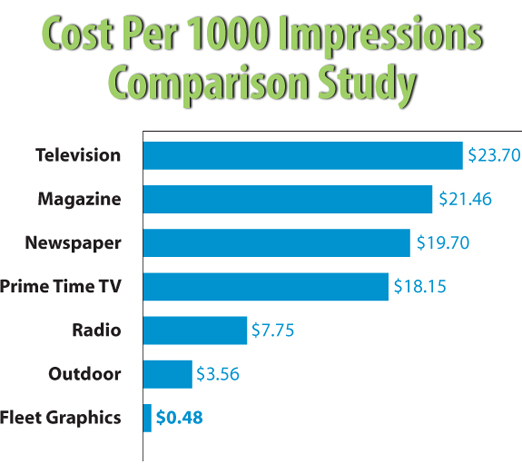 When Cadbury-Schweppes Company tracked its performance using fleet wrap advertising, the results demonstrated that using mobile vehicle advertising provided the best return on investment among major advertising mediums at a cost of just $0.48 per 1000 impressions.
Not only do commuters provide a regular captive audience for your marketing message but studies by the Out-Of-Home Marketing Association of Canada indicate that individuals are more receptive to advertisements when away from home. An American study recently found that consumers acted on out-of-home advertising within a half-hour after exposure 22% of the time.
A study published by Infinite Graphics.net reports that vehicle wraps reach 95% of Americans. In Canada where 13.5 million commuters spend an average of 65 minutes on the road each day just imagine the potential.
Time to Grab a Board and Hit the Water
What do all these numbers mean for your business? First, outdoor advertising is becoming increasingly important as a part of every organization's media strategy. As consumers spend more time away from home and make buying decisions on the go, advertisers need to follow. Advertising space is limited. As more advertisers seek to enter the field, outdoor advertising prices will continue to increase. Fortunately, you have your own advertising medium at the ready- your business vehicle. Whether you own a single car or an entire fleet of trucks, this asset is just waiting for you to put it to use.
Second, in addition to being cost-efficient, livery wraps are market-effective. Your vehicles travel in your primary market territory. With a custom vinyl wrap, every trip your vehicle makes is an opportunity to reach your target customers. Depending on traffic density, this translates into thousands, if not millions, of impressions each month.
Finally, commercial car wraps offer you a flexible and effective means to communicate your brand and message to your target market. Marketing success depends on a comprehensive and cohesive message the conveys your brand's image. By adding commercial car wraps to your advertising mix, you can ensure that your message is seen and your brand remembered.
Now, isn't it time you made a splash with a custom car wrap?
looking for more information for your business car wraps?
VEHICLE WRAPS STARTING FROM $450